How it
works
1.

Download myy app

2.

Discover

instant

rewards and loyalty offers.

3.

Visit your local participating venue.

4.

See staff to collect your

digital stamps

.

5.

Enjor your

rewards

.
myy app for
users
myy app is service provided to you by your preferred brands to simplify and speed up your rewards and promotional programmes.
myy app allows you to quickly collect points, redeem rewards and enter brand competitions and promotions.
myy app allows you to receive offers from products you like and trust. Keep track of all your rewards, benefits and prize entries in one convenient App and stay ahead of other shoppers to increase your chances of winning prizes and rewards!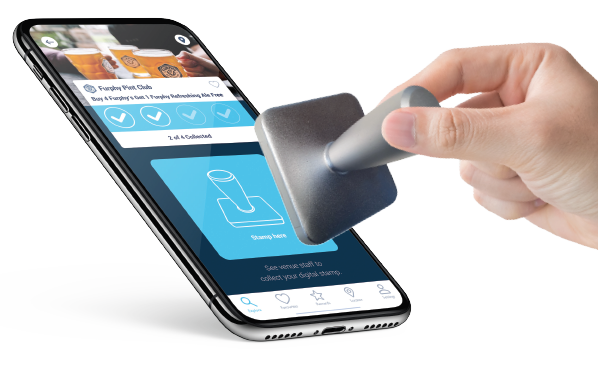 What myy app can do for your business
Create brand loyalty

Drive product sales when you need them – instantly.

Have strong visibility within the consumer promotional landscape

Offer a simple and convenient rewards solution for your consumers

Deliver a positive brand interaction and experience

Reduce management time and cost wastage
Want to know
more

?

How do you create brand loyalty that is easy for your customers and effective for your business?

myy app was developed as a centralised platform for all brands to be visible within the consumer promotional landscape. It offers consumers the ultimate simplicity for promotional entry and rewards, while ensuring businesses maintain complete control of their brands and the way they reach and reward their consumers.

With the App revolution, brands wanted to create their own brand loyalty apps, primarily for rewards programmes and consumer facing promotions. Fast forward to todays overloaded devices and consumers are now looking for simplicity in their brand interactions – they want to continue to interact digitally but simplicity, consolidation and speed is key. Just like their wallets, food delivery and music, they want everything to be in the one place.

myy app perfectly captured the zeitgeist of today's use of convenience technology.
I want to be loyal to the brands I love and use but it needs to be easier and faster for me
myy app was created to instigate a paradigm shift in brand loyalty. By avoiding the overloaded and often scattergun approach from brands to consumers in the mobile digital domain, our objective was to create the easiest and simplest link between brands and their customers.
myy app allows your brands to have a market leading, often one touch customer experience with loyalty, competition and direct to consumer transactions. myy app allows instant micro-marketing from accurate customer data, allowing you to launch new outlets and new brands instantly and to quickly manage and maintain your existing brand sales. Reduce management time and cost wastage with myy app.
Create loyalty to your
brand

and to the venue that sells it.

Dave buys Vittoria Coffee from his coffee shop near his office. He's on the road today driving to Canberra. We know from myy app he usually buys a coffee around 10.30am each day. myy app recognises that he's mobile today so we can send Dave a notification of the nearest Vittoria Coffee café and remind him to collect his Vittoria Coffee coffee club stamp. The café wins with a new customer sale (he could have gone to any café) and Vittoria Coffee wins by keeping the customer loyal to the brand. Dave gets his preferred coffee brand and feels value in the fact that he still gets his loyalty cub stamp.
Drive product
sales

when you need them - instantly.

Jason's Cafe is having slow coffee sales on Fridays between 1pm and 3pm. Through the myy app back end access panel, the café owner, Jason, sets up a geo-fenced region, 5km around the venue, notifying customers they will receive two loyalty stamps for any coffee purchased between 1pm and 3pm. Jason also notices he has a large selection of close to date cakes and pastries expiring tomorrow so he creates an offer - buy a coffee and get a free piece of cake limited to fist 100 customers. Jason limits his offer to a 5km radius of the cafe to bring in customers not currently on site. This can be driven by either the cafe or the brand – both can have logins and instantly deliver live offers. This allows a closer working relationship with brands and venues.
myyStamp™
myy's unique finger print digital stamp allows you to reward customers instantly without the need to scan customer receipts or enter in a code on your shopper's smartphone.
With each stamp generating a unique 'fingerprint', venues can not only monitor customer movements but also manage staff capacity. myyStamp™ can be worn on a lanyard or attached to a POS machine and with one touch can record the purchase transactions of your staff. With each staff member having one unique stamp, you can monitor performance for your brands and sales.